USBData Recovery: What is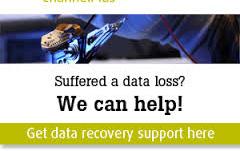 We can help data recovery.Data Recovery?
Data recovery is the process of obtaining usable data from inaccessible storage media and corrupted or deleted file sets. Computers, MP3 players and digital cameras store
data on some type of electronic media such as hard disk drives, diskettes or flash devices.
Each type of media presents different recovery challenges.
The data recovery process is very complex and labor intensive. Successful data recovery requires an intimate understanding of all of the technical details of modern data storage media, operating systems and file systems. It requires a well-equipped, controlled laboratory
that is staffed with experienced, trained technicians. Without these resources, the chance of losing data or causing more harm to the media climbs considerably.
Data Recovery Process:
1. Repair disk: Damage to the hard disk drive, if applicable, is diagnosed and repaired. Damaged components are replaced. Firmware failures are identified and repaired.
2. Image disk: The repaired drive is read and data copied to another disk, preserving the state of the data when the drive or media was received.
3. Retrieve Disk: Damage or corruption to the file system is diagnosed and repaired to permit access to the individual files. Individual files are checked for corruption and repaired if necessary.
4. Restore Data: The retrieved data is then copied to new media (for example a USB drive) and returned to the client.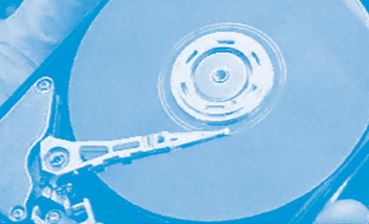 Inside Hard Drive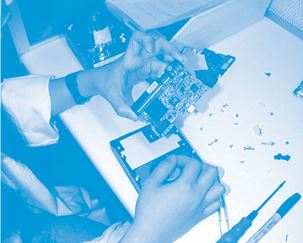 Drive Electronics.
Data Recovery by Andlogic Computers, Hamilton NJ, offer the following Data Recovery Services:
* Hard Drive Recovery * Laptop Recovery * Server Recovery and Network Storage recovery
* Database Recovery * USB Flash Drive Recovery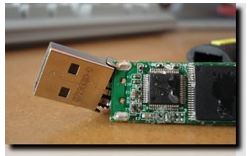 Data Recovery from Broken USB Flash DriveData Recovery tips.
STOP
If you suspect that your hard drive or storage media has failed:
* Turn off the media immediately.
* Do not reboot, shake, disassemble or attempt to clean/dry the damaged media.
DO NOT DO IT YOURSELF
You should not attempt to perform recovery of the damaged media or you might experience:
* Unrecoverable data
* Invalidated warranty
Now that you have detected a data loss call us 888-487-5879888-487-5879 to Consult....Evaluate....Recover.... and Return Data.
Why do hard drives lose data?
Data recovery engineers classify hard drive data loss in two categories:
Logical Failures:- The hard drive is in working order but some files or data cannot be accessed for logical reasons such as a lost partition or accidental reformatting.
Mechanical failure:- The hard drive is not functioning. The most common causes are head crashes and motor failures.
Causes of Data Loss:
* Human Error:- Accidental deletion
* Computer Viruses
* File System corruption
* Natural disasters:- Water damage, Power surge, physical damage
* Software corruption
* Hardware issues: RAID and other storage/server hardware failures.
How Andlogic Computers and their Partners Hard Drive Recovery Services Help to Retrieve Hard Drive
Data From any Hard Drive Failure:
Hard drive data recovery and file recovery involves more than just replacing parts. Data Recovery engineers use cutting-edge recovery tools and proprietary processes to ensure the most successful outcome – the result of continual investment in R&D and more than 20 years of experience. Sample professional tools and techniques include:
Cleanroom Environment: Hard disk recoveries related to mechanical failure are performed in dust-free cleanroom environments where they are carefully dismounted, examined and processed.
Drive Imaging: Damaged or failed hard drives are imaged to a working environment, providing the most complete data recovery possible.
Proprietary Tools: When there is physical media damage, Ontrack Data Recovery
Note: Trying this on your own or through an inexperienced data recovery provider may lead to further damage to the drive.

Can I use Data recovery Software to retrieve data for a home computer?

Yes. You can download Data Recovery Software Home version for $149.00 (Download only).

Do-it-yourself data recovery tool for home users with an easy-to-use intuitive data wizard

Data erase and data protection features

Protect, recover and erase data from file systems supported by Windows and Mac operating systems.

S.M.A.R.T. scan allows you to monitor the condition of your hard drive and help protect against data loss

Perform unlimited recoveries from local storage and external media

tools can read

around the damaged area.
Note: Trying this on your own or through an inexperienced data recovery provider may lead to further damage to the drive.

Certified Data Recovery Partner
We also provide Data Recovery Services in Trenton, Lawrenceville, Princeton, West Windsor, Plainsboro, East Windsor, Hopewell, South Brunswick, North Brunswick, Somerset, Mercer county, Middlesex County and Somerset County in New Jersey.
FREE IT/Computer technical support over the phone. 609-610-5752